Thioredoxin tag properties and uses
The Thioredoxin (TRX) tag is used predominantly to increase the solubility and thermal stability of proteins expressed in bacterial systems, where it also assists in the refolding of proteins requiring a reducing environment. It also provides a useful epitope tag, and has a molecular weight of approximately 12 kDa.
Oxford Genetics provides a range of plasmid vectors containing TRX tags for use in bacterial cells. We provide TRX in a range of orientations, to meet all your cloning requirements. Please browse through our products using the 'Browse Plasmids' menu. For example we provide TRX at both N and C sides of the MCS, allowing versatile positioning of your gene, we sell it with and without enzyme cleavage sites (for simple removal of the tag, if required, after protein production). We also sell it in a range of configurations with other tags (such as hexahistidine) to give you maximum flexibility.
Production of proteins using TRX tags: the principle
A typical TRX protein production is as follows: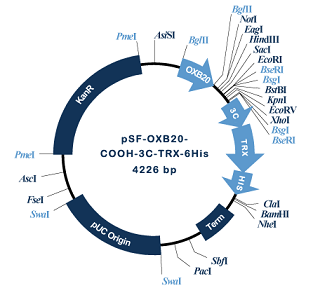 Harvest and lyse host cells with expressed TRX-tagged protein, and clarify by centrifugation


TRX and many TRX fusion proteins are stable at 80°C, allowing initial purification by heat treatment to precipitate other proteins.


Several types of affinity purification are possible, for example where an immobilized arsenical compound forms an adduct with the redox-sensitive vicinal dithiols present at the active site of thioredoxin. Pass the lysate slowly through an affinity column and wash carefully with buffer


Elute by changing the pH and reducing potential of the buffer


Purify by dialysis.
Our product range
Oxford Genetics provides a broad range of plasmids containing N-terminal and C-terminal TRX tags for mammalian, bacterial and yeast systems. In some plasmids the tags flank reporter genes, while in others they are positioned adjacent the MCS enabling you to insert your own gene in frame as required.
The plasmid structure shown has a TRX site downstream of the MCS, to be positioned at the C terminus of your gene of interest. The plasmid also provides a hexahistidine site, for improved purification, and both can be removed from the protein produced by Prescission cleavage of the 3C site, if required.
Our Plasmid Builder facility also provides a simple means for you to design an efficient strategy for any modifications or cloning manipulations to these plasmids. Finally, as always, although we have designed these plasmids for simple and efficient cloning, we are happy to undertake any cloning steps that you prefer to outsource. You can access all these options through the Plasmid Builder button below.